The second season is here!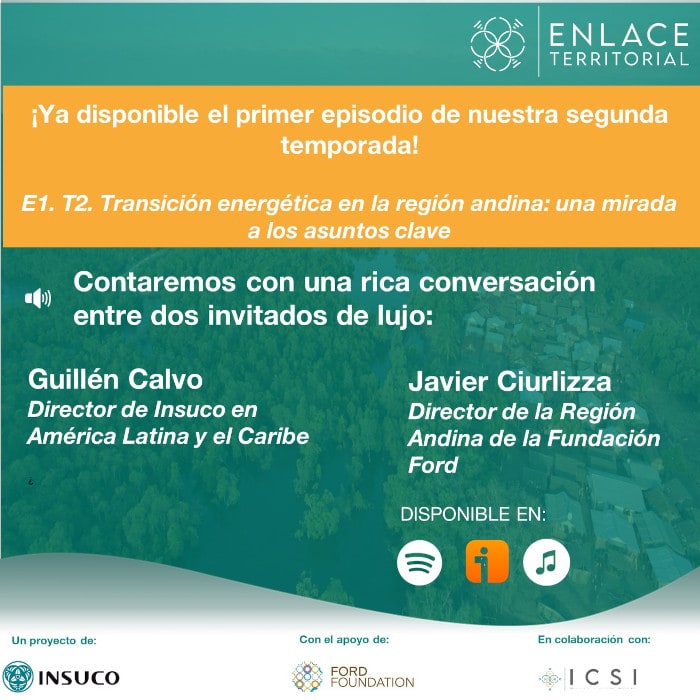 INSUCO, with the support of the Ford Foundation and in collaboration with #ICSI (Insuco Center for Social Innovation), presents the second season of our podcast Enlace Territorial: "Energy transition in the Andean region: a look at the key issues".
After a first season marked by seven episodes dedicated to the most relevant and innovative topics of social management and territorial sustainability in Latin America and the Caribbean, we now present with great excitement the second season of our podcast.
One of the most important changes that we will have this time is that each of the eight episodes of this season will be related to the energy transition, one of the most relevant issues of the present for being a process whose implementation will take decades and that will have socio-economic, political, cultural, territorial and climatic repercussions in the lives of millions of people. Given the importance of this new paradigm, in each episode we will address different approaches or points to consider about the transition, trying to have a diversity of views and cases that allow us to broaden and enrich the conversation about it.
Thus, in our opening episode we have a truly special guest: Javier Ciurlizza, director of the Andean region of the Ford Foundation. Together with Guillen Calvo, our director for Latin America and the Caribbean, they will address key transition issues in Andean countries such as #Colombia, #Ecuador, #Peru and #Bolivia, among others. Why is information management related to energy transition? When political polarisation is very strong in countries like Colombia or Peru, what happens to long-term plans on transition? What is the importance of the signing of the #Escazú Agreement? You are invited to listen to these and many other topics in this conversation: 
You can listen to us on
Spotify: https://lnkd.in/g8msyZQE  
Apple Podcasts: https://lnkd.in/g5NmvCcJ   
Ivoox: https://lnkd.in/gaDnPPk