Recent and ongoing projects
Promotion and support of territorial dialogue in the context of the COVID-19 health crisis
Client : Ministry of Mines and Energy (MME) of Colombia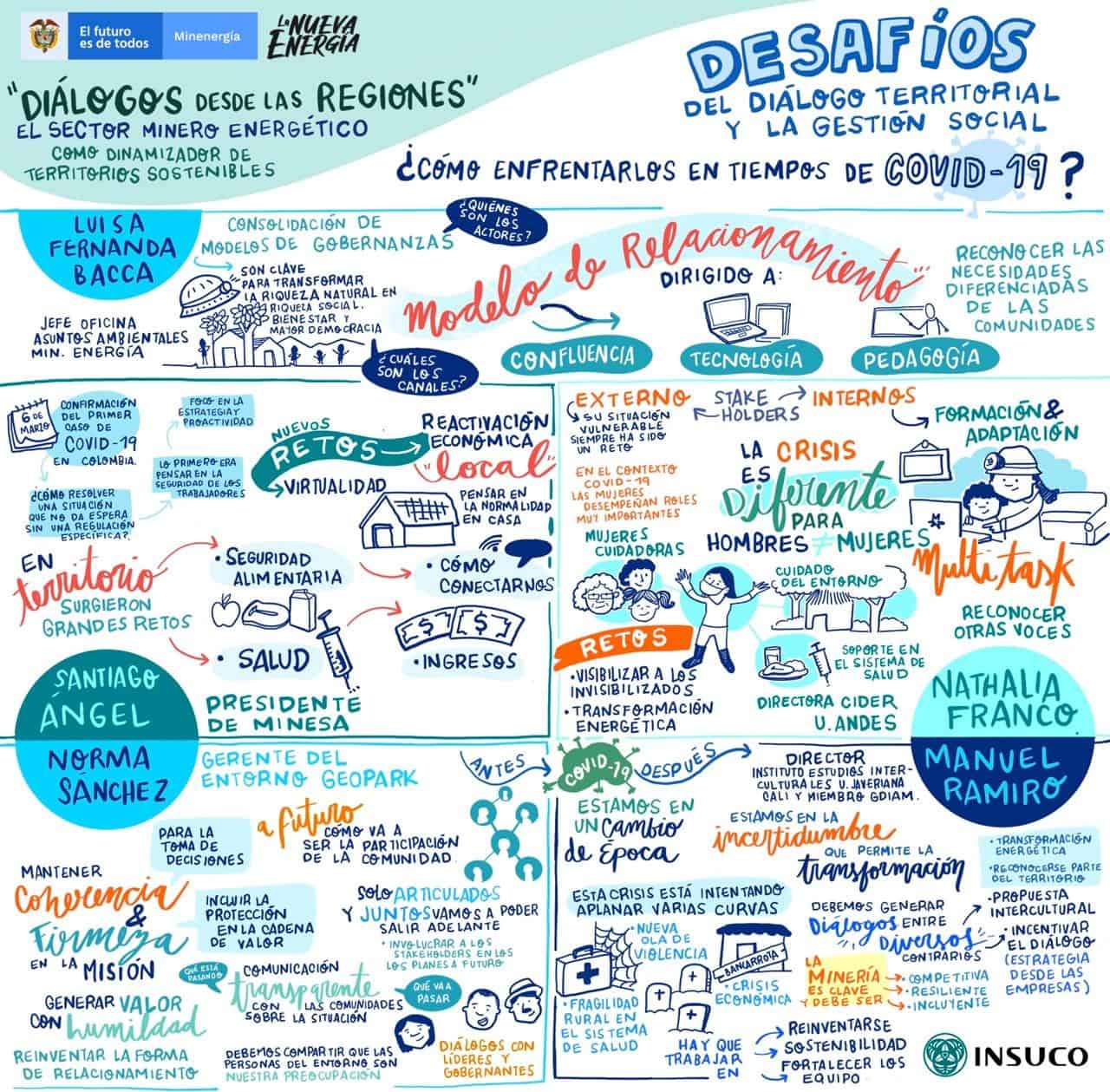 The spread of COVID-19 has confronted us, internationally, with an unprecedented crisis, which overcoming required joint and inter-sectoral efforts, accompanied by the development of innovative initiatives to revitalize territories and increase the well-being of communities. On the one hand, the economic slowdown and the climate of uncertainty have increased the expectations of social actors related to high-impact projects (in the mining and energy sectors, in particular) and their benefits for communities. On the other hand, preventive isolation measures have been obstacles to the implementation of companies' social and community management strategies, thereby limiting their ability to interact with other key players in the territory and their contribution to providing concrete solutions to the health emergency.
It is in this particular context that the Colombian Ministry of Mines and Energy (MME) solicited Insuco for the implementation of the project Promotion and accompaniment of territorial dialogue in the context of the COVID-19 health crisis, whose main objective was to generate a platform for dialogue on the challenges imposed by COVID-19 in terms of territorial management, as well as to formulate guidelines for companies of the mining and energy sector to help them in their social management of the health crisis and to come back to the territories where they operate.
Insuco implemented the following activities:
Organization of the virtual meetings: the virtual discussions lasted approximately one and a half hours and also included a space for the exchange of ideas and reflections between participants and panelists and the formulation of questions. A total of three (3) webinars have been organized, on the following subjects: topic No. 1 "The challenges of territorial dialogue in times of COVID-19. How to address them from a renewed vision of social management"; topic No. 2 "Economic recovery after COVID-19, what will be the role of the mining and energy sector?"; topic No. 3 "In the context of COVID-19, how does the mining and energy sector can participate to the discussion on climate change?".
Systematization and communication on lessons learned: the various virtual meetings were accompanied by various graphic supports and the elaboration of a communication strategy, the diffusion of the most important contents and the socialization of the results of the project.
The following deliverables have been submitted to the client:
Graphical memories and webinar recordings (organized via the Crowdcast platform);
Graphic pieces and infographics presenting the main conclusions of the virtual meetings.
Tell us about your project!
Do you wish to discuss your project and its challenges? To learn more about Insuco and our expertise? To meet with us?