Recent and ongoing projects
Sustainability of the Multi-stakeholder Dialogue and Territorial Transformation Monitoring Process 2021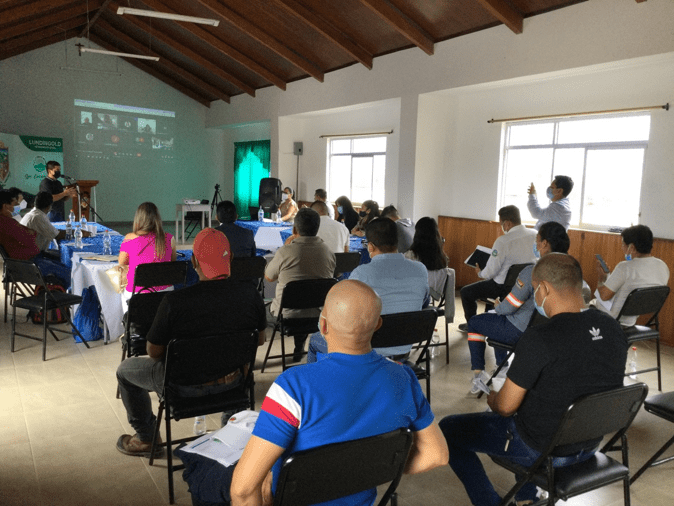 In continuity with the multi-stakeholder dialogue process that Insuco has been implementing with Lundin Gold, the GAD Parroquial de Los Encuentros, and other territorial stakeholders, in this phase the dialogue process was transferred to the GAD Parroquial, which installed and led 5 working groups to address issues considered a priority by the communities of the parish. These tables are:  Employability, Local hiring, Community infrastructure and connectivity, Productive diversification, Environmental care.
Insuco has closely supported the implementation process of the working groups to ensure a correct and successful implementation.  The working groups are an opportunity for the territory to maintain channels of dialogue to address the priorities of the actors that inhabit it and aspects concerning the promotion of consensual planning for sustainable territorial development.
On the other hand, taking as a reference the results of the application of the Territorial Transformations Monitoring module during the first and second phase of the Territorial Transformation Observatory (TTO) Los Encuentros, Insuco updated the indicators and analysis of the Territorial Transformations, results that will be socialized with the stakeholders of the territory.
The following deliverables are expected:
Report of results of the update of module 1 of the OTT Los Encuentros;
Accompany the GAD in pre-planning and during the realization of the Working Tables;
Support the management of relationships with key stakeholders;
Support in the systematization and follow-up of the commitments agreed upon during the sessions.
Support in sending post-session information and clarification of doubts to the participants of the dialogue roundtables; Support in the facilitation and orientation of the participants of the dialogue roundtables.
Support in the facilitation and orientation of follow-up sessions to commitments between working group sessions.
Preparation of post-session management reports of the Working Groups.
Tell us about your project!
Do you wish to discuss your project and its challenges? To learn more about Insuco and our expertise? To meet with us?