Recent and ongoing projects
Development of the Land Acquisition and Resettlement Action Plan for the early works for the construction of the Simandou Mining Project railway
Client : Winning Consortium Simandou (WCS)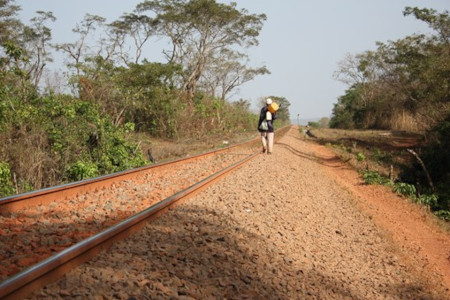 In November 2019, WCS won the tender for Simandou Blocks 1 and 2 (North of Simandou). The Simandou iron extraction mining project, led by this consortium, is therefore a comprehensive mining project comprising: (i) an open-pit iron mine in the Simandou mountains in north-eastern Guinea; (ii) an approximately 675km trans-Guinean railway to link the mine to the Guinean coast; (iii) port facilities for the export of iron, including a river port at Forecariah and, eventually, a new deepwater port on Matakan Island.
As part of the railway construction, ealry works are required to establish access roads in some mountainous areas. WCS commissioned Insuco to carry out a Land Acquisition and Resettlement Action Plan (LARAP) for people affected by these early works, in the prefectures of Kindia and Mamou. A LARAP must allow to improve or at least restore the livelihoods and living conditions of displaced persons.
The objective of the mission was to carry out inventories of the People Affected by the Project (PAP) identified and their assets (e.g., agricultural plots), in order to define the compensation measures linked to their future economic or physical displacement. Socio-economic surveys were also carried out, including on the economic activities of the PAP. Following the field mission, contracts were established for each PAP on the basis of the compensation calculated, and the LARAP was drafted, explaining in particular the grievance mechanism plan to be implemented by WCS.
Insuco has submitted to the client the following deliverables:
Compensation strategy: (i) a price matrix validated by both WCS and local authorities; (ii) a compensation strategy detailing the eligibility criteria for land and property; (iii) an entitlement matrix.
Inventories of assets and affected persons compliant with IFC standards: (i) households' surveys and inventory forms; (ii) an inventory report of people and assets impacted, including an identification of vulnerable households; (iii) a data table containing all the assets inventoried; (iv) a data table containing socio-economic data on the PAP; (v) a set of cartographic data in GIS format.
Calculation of compensations and editing of contracts: (i) a database presenting the compensation calculation for each of the PAP; (ii) contracts for each PAP.
Reports: (i) progress reports; (ii) LARAP for each section of the early works; (iii) final LARAP summary.
Tell us about your project!
Do you wish to discuss your project and its challenges? To learn more about Insuco and our expertise? To meet with us?